Let's read the text
Required reading: 7 minutes
In summer 2017 we were on a mission: We had 12 days to prove to top management that AI-based visual search could improve the user experience when shopping online.

In spring 2017 we fell in love with visual search. Pinterest had just released its lens feature that allows users to find information about an object with their smartphone camera in a jiffy. We were fascinated and wanted to learn more about this technology. A few weeks later, we had basic understanding of the subject and our own visual search concept in mind. We were convinced that Machine Vision could improve the user experience on the web. We also wanted get a better understanding of user needs and their current search journey.

Not everyone in the company was enthusiastic about our idea. In fact, we have been highly challenged by in-house search experts to proof the relevance of visual search in the customer journey. However, we had the chance to investigate our hypothesis together with a cross functional team. From that point on we were on a mission - to prove that there was a use case for visual search.
Start with secondary sources
First of all, it is worth mentioning that we are no tech professionals. We were working in search marketing when we started our journey.  We had no in depth knowledge about artificial intelligence (AI) image recognition, product development or agile working processes. We were simply enthusiastic about the topic and the fact that a picture is better than a 1000 (key-)words.
Before we developed our hypothesis, we studied numerous secondary sources. For several weeks we read all scientific papers, studies and lectures about machine vision, Pinterest, the technology behind visual search functions and their marketing potential. Google Scholar was a helpful search engine for this purpose as well as YouTube. Our knowledge of English proved to be a great advantage as most of the AI content was published in the USA and China. Based on our research and the resulting learning process we were then able to develop our own idea. We were able to present these to those responsible for innovations and then to top management.
Ensure the support of decision-makers
To ensure our idea was easy to understand, we designed a first prototype with the help of a befriended designer. This model convinced the decision makers to support our research project. We also emphasized that (and how) many internal stakeholders could benefit from a clear use case. In addition, we put the customer experience and the 4D design method "problem first" in focus of our considerations.

Fun fact:
While browsing through several reports and studies, we found out that Yushi (Kevin) Jing is one of the masterminds behind visual search. His company Visual Graph was acquired by Pinterest in 2014. As Head of Recommendations, he supported the launch of the visual search function "Pinterest Lens". Later, Jing started to work for Google as a software engineer. Just a few months later, the tech company released a similar visual search feature, also called "Lens." Kevin's work inspired us throughout the entire research process. You can find an overview of his publications here: Http://www.kevinjing.com

Connect with experts and stakeholders
We contacted experts within our organization to get an overview of ongoing projects around machine vision and visual search. This exchange of information with colleagues from technology and product management was extremely valuable. We could specify our idea and make sure we didn't reinvent the wheel. In addition, we met employees who were equally enthusiastic about the subject and offered their support. An ideal basis for defining a central research question that was at the heart of our first sprint.
User first, KI second
At first, the enthusiasm for KI innovations distracted us: Our idea was based on technology and ignored the user. We had a solution, although we did not know if there was any problem at all. We encountered this phenomenon several times during our research. Even large tech companies have introduced new features to the market in the past without first examining the added value for the user. The result: Worst case, the tool was not used and was not worth any time or resources. Innovations can generate enthusiasm, but this does not represent real added value beyond the excitement. In innovation management they like to use following quote:
"If I had asked people what they wanted, they would have said faster horses." Henry Ford
We cannot expect users to know or understand new technologies. However, what they can tell or show us are existing problems or challenges they encounter currently. A stringent methodology in user research prevents us from being dazzled by the technology. And ensures, that customer problems are identified before we focus on solutions.
We pushed KI aside for a moment and focused on the current habits of our users. How do they act without being aware of new technical options? How do they try to achieve a specific goal? How do they search and find visual inspiration? More importantly, where are the pain points in this search process?
Design sprints with cross-functional teams
We used the famous Sprint Kit for our research. We recommend the book to everyone who is not familiar with agile working methods. Ideally, there is also a sprint mentor who accompanies and advises the entire project. We had a very good experiences with ross-functional project teams that combined people from different fields. We (marketing) collaborated with innovation managers, product managers, UX/UI designers, and app developers. The synergies were amazing and it surprised us what we were able to achieve in twelve days. Together, we focussed on a single research question per week.
Time is luxury, therefore it is not necessary to invest twelve days. In fact, a week (a sprint) is enough for most cases. Due to the broad theme and the available resources, twelve days (two sprints) made sense for our research project.
Outlining the customer journey
W focused exclusively on user research during the first sprint. The goal was to get in touch with our users and to understand their current approach to visual inspiration and search. Five personal interviews led to valuable discernments. Based on this information, we were able to design a typical customer journey and identified pain points. In addition, we conducted interviews with external experts to identify other challenges for users of visual search features. It was surprisingly easy to contact specialists (e.g. from Google Lens) and exchange information. There is no harm in asking.

Tip:
It is worth mentioning that the research process begins with a clear selection of interview partners. The general target group, age, nationality, openness to new technologies, etc. should be taken into account. As a rule, five test users are sufficient to recognize repetitive behavior patterns. You can either conduct interviews personally or use an online tool such as usertest.io.
Build a bridge between pain points and the actual target
We took two weeks to reflect and think about what we had learned after the first sprint. The second sprint focused on the solution. We defined a new research question and optimized the user journey based on our learnings and resulting hypotheses. At this point, KI came back into the game. Now we were finally able to use our acquired knowledge of computer vision to build a bridge between pain points and the actual target of the users. This was the basis for a new prototype and we examined the functionality in five other user tests.
An ideal solution is an intuitive extension of the user's current habits. If that succeeds, you may hear the question "How did I do it before?". As soon as the respondents recognized the advantages of our prototype, they reacted with enthusiasm and asked: "Can I use it right now?"
Our conclusion – enthusiasm is a strong driver
Those who use a clear methodology, surround themselves with talented people from different disciplines and use their own motivation to learn more – can achieve great things. We were able to prove that there is actually a use & business case for the visual search. Our findings convinced the top management to continue research and investments.
The general enthusiasm for KI can be a valuable asset for any company. The prerequisite is, however, the openness to innovative technologies and the possibility of examining ideas. User research forces the enthusiastic to think beyond the hype and focus on facts. At the same time it offers the opportunity to convince skeptics. But above all, it creates real benefits for the customer.

Note: For data protection reasons we cannot give details about the prototypes.
Hermance Wadin & Tina Nord
Picture: Photo by Grlls Mnmxms, EyeEm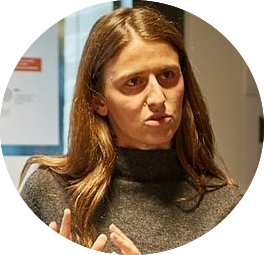 Search and innovation are Hermance Wadins passion. As SEO expert, she is excited about artificial intelligence and how it affects finding. In 2017, she initiated a research project on visual search together with Tina Nord. The research focussed on the role of intuition within the customer's journey.