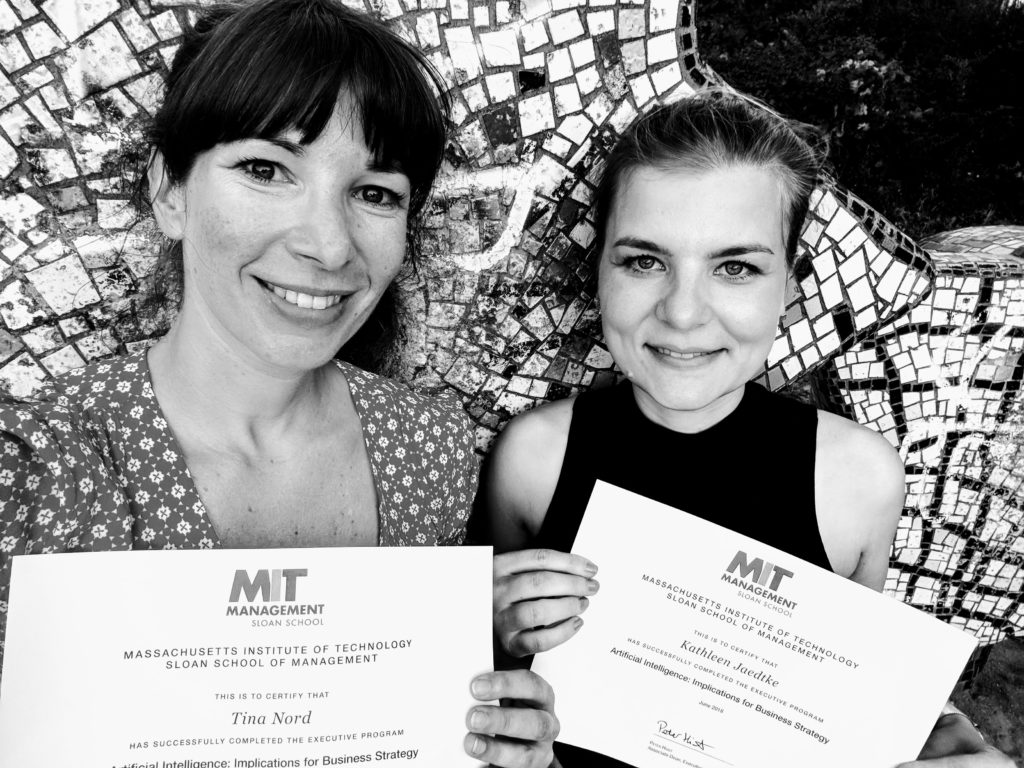 Lernen-wie-maschinen.ai is a blog about artificial intelligence, which deals with and explains the different aspects of this topic. The texts serve to pass on knowledge to all those who are also enthusiastic about these booming technologies but have no technological background. We try to understand a complex topic and make it understandable for others.
LeWiMa was founded by Kathleen Jaedtke and Tina Nord. The two marketing experts from Berlin have been working intensively on artificial intelligence (AI) since 2016. Their shared enthusiasm for language and visual search is their motivation to understand machine learning and deep learning in detail.
In May 2018, Tina and Kathleen successfully completed two further training courses. At the Sloan School of Management and the Computer Science and Artificial Intelligence Laboratory of the Massachusetts Institute of Technology (MIT) they passed the course "AI: Implications for Business Strategies" with the rating "outstanding". They also studied data science and the Python programming language at CODE University of Applied Science.
Both use the knowledge they have gained in marketing, for example, to make customer travel or finding things on the web smoother. With success: Since November 2017, they have been presenting their findings at e-commerce conferences. They have also been able to publish their first professional articles online and offline.
At the end of 2019 her article on our personal history from Forbes Magazine picked up. Kathleen Jaedtke and Tina Nord were able to contribute their perspective on current changes and the transformation brought about by AI.
In spring 2020 Tina took over the management of the blog for the time being.
———
As we continue to educate ourselves and this is an ongoing process, we cannot guarantee the completeness of the published information. We appreciate any comments or remarks if we have missed something. We will also, of course, point out the source of our knowledge.
Tina Nord & Kathleen Jaedtke